Available Dogs in Training
~~~~~~~~~~~~~~~~~~~~~~~~~~~~~~~~~~~~~~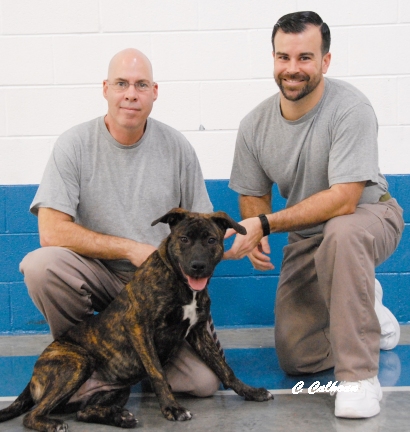 ADOPTED
Molasses

1 Year Old
Spayed Female
Plott Hound/Terrier Mix

Molasses loves to play with tennis balls and loves anyone she meets. This girl would do great with an active family. Even though she is being trained she has tons of extra energy. She would be a perfect jogging or running companion and is very eager to play with other dogs. "Molasses is a loving dog with a happy energetic and friendly temperament. She has a wonderful brindle coat. She loves belly rubs and playing with her toys." Trainers Eric Call and Greg Wheeling
Molasses is currently enrolled in the New Leash on Life training program. Through the New Leash on Life program they are trained in basic obedience including house training. While in training they are not allowed visitors. This is prison policy not ours. I visit the prison once a week to check on their progress and watch the training. They can be adopted at any time but cannot leave the prison until graduation. At this time graduation is set for Tuesday April 14th, 2020 at 2 p.m.
~~~~~~~~~~~~~~~~~~~~~~~~~~~~~~~~~~~~~~
Bell "sitting" on command and being patient while the trainers are being instructed.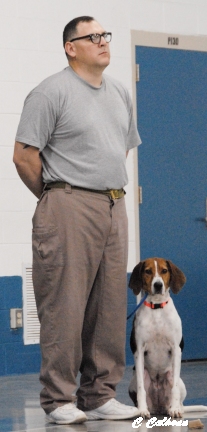 Molasses choosing to stare at me instead of listening to the group of trainers talk.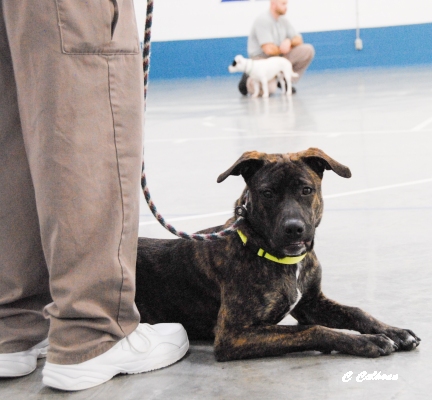 Rocky being a good boy and getting loved on while waiting on the next instructions.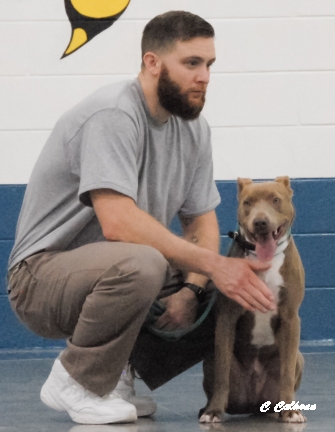 CONGRATULATIONS Leash on Life Graduating Class of 8-2019!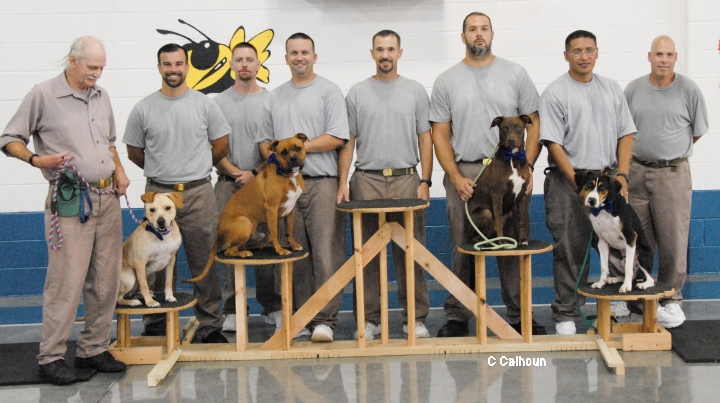 Dogs from left to right: Falls, Doogie, Hershey and Hoover
Trainers in photo left to right: A.Y. Willard, Greg Wheeling, John Wimunc, Joseph Meadows, Zachary Logan, Brandon Holmes, Jhalmar Medina, and Eric Call
Falls is learning quicky and I hear he is loyal and great with the other dogs.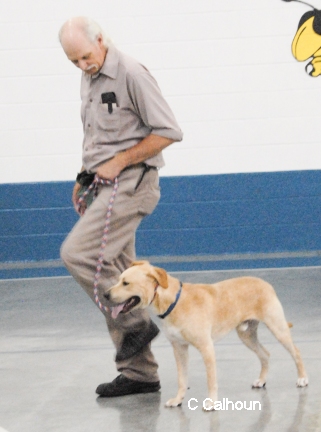 It isn't always about training. Sometimes it is about the heart that goes into it.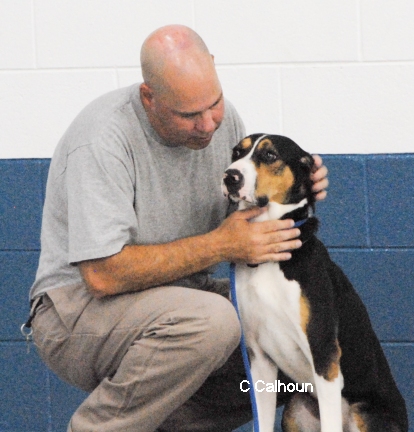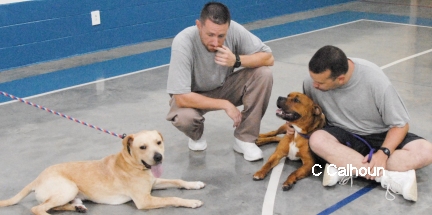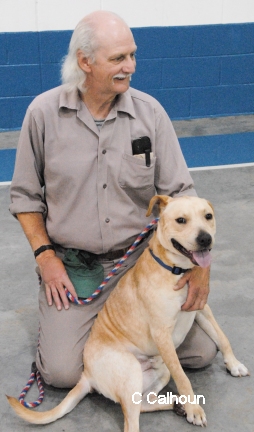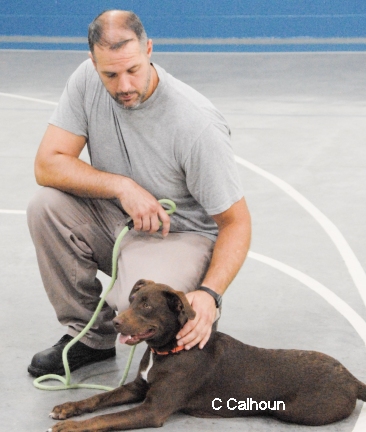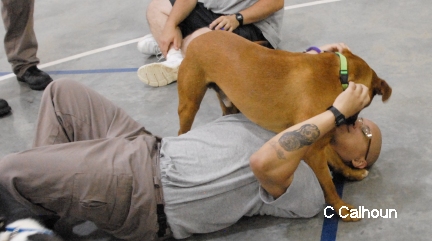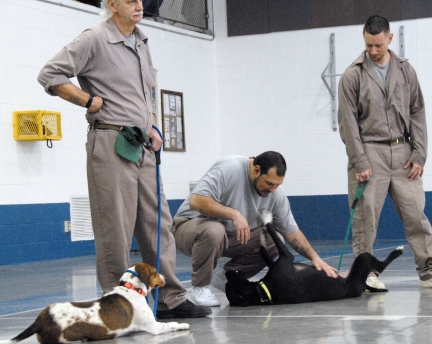 Indie goes belly up at the drop of a hat! She loves attention!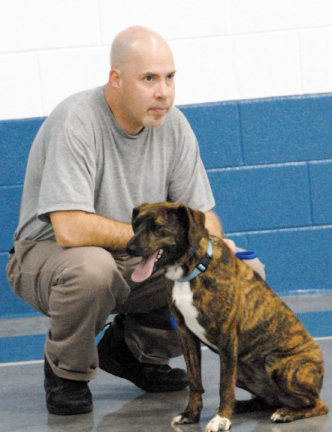 <~~Esmerelda and Call taking a short break.
Bonnie learning her "down". She sure is a sweet girl. ~~>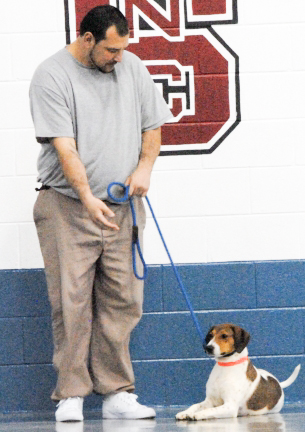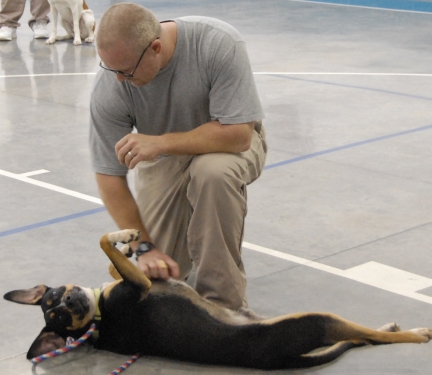 <~ Clyde getting a belly rub. He is such a love sponge!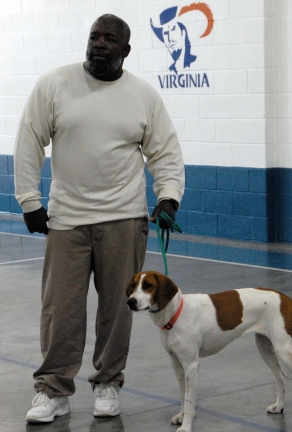 <~ Pumpkin waiting to show her stuff!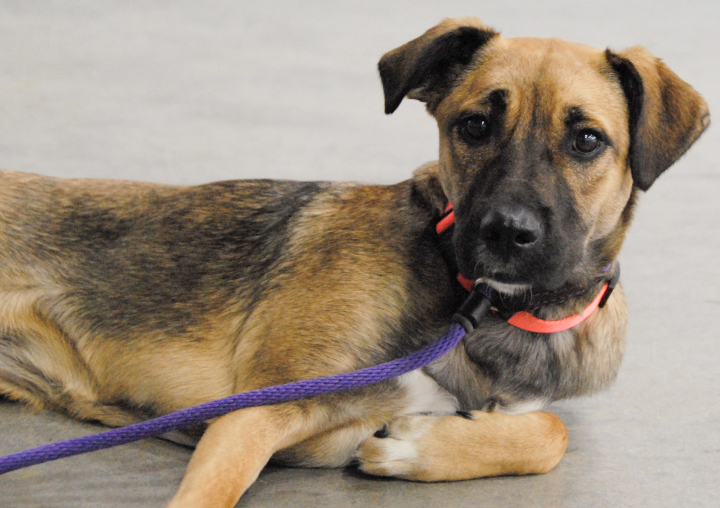 <~ Luna waiting her turn.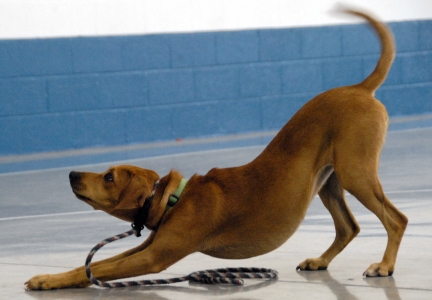 <~ River takes a bow!