Humane Society Dogs Go Home with AKC Registrations
Through New Program
The Avery Humane Society has joined forces with the American Kennel Club to provide more training and opportunities for the community's homeless dogs.
Now all dogs that graduate from the New Leash on Life program will go to their new homes with a registration in the AKC Canine Partners program. The Canine Partners program enables mixed-breeds and purebreds "without papers" to enjoy AKC benefits and compete in AKC events, including agility and rally trials.
The registrations include other benefits of value to all dog owners, including 60 days of free pet health insurance and a one-year subscription to the AKC Family Dog magazine that includes tips on training, grooming and health care.
Owners receive a registration certificate from AKC, suitable for framing, which includes the dog's name and individual AKC number.
"This is a great opportunity for the new owners of our dogs to receive valuable resources from the AKC to help them care for and train their dogs," said Charlene Calhoun, shelter manager. "It also gives our owners and dogs access to all the events and programs that the AKC offers."
Avery Humane Society works in conjunction with the Mountain View Correctional Institute in Spruce Pine on the New Leash on Life program that benefits both the shelter's dogs and the prison's inmates. Shelter dogs live with inmates, who are selected as trainers, for several weeks. Professional dog trainers conduct classes at the prison and advise the inmates on the dogs' behavioral and training needs.
The socialization and training prepare the dogs for life with their new families, and that increases their adoptability. "Having basic training and socialization will make these dogs' transition into their new homes much smoother for both them and their new families," Calhoun said. New Leash on Life also benefits the inmates who learn responsibility and dog care skills that may help them find future employment in the animal care field.
The AKC looks forward to a long relationship with the Avery Humane Society and New Leash on Life, which is a program of the NC Department of Corrections. "We are delighted to work with such a dedicated group of people who work so diligently to find good homes for these deserving dogs," said Mark Dunn, Assistant Vice President of AKC Canine Partners.
The American Kennel Club Inc. is the oldest dog registry in the country, having been founded in 1884. The not-for-profit organization not only registers dogs and governs dog shows, it works to improve the health and welfare of all dogs though the AKC Canine Health Foundation, the AKC Companion Animal Recovery service, disaster relief and more.
For more information on adopting a dog, contact the Avery Humane Society at 828-733-2333 or averyhumanesociety@att.net. For more information on AKC Canine Partners, contact akccaninepartners@akc.org or call 919-816-3749.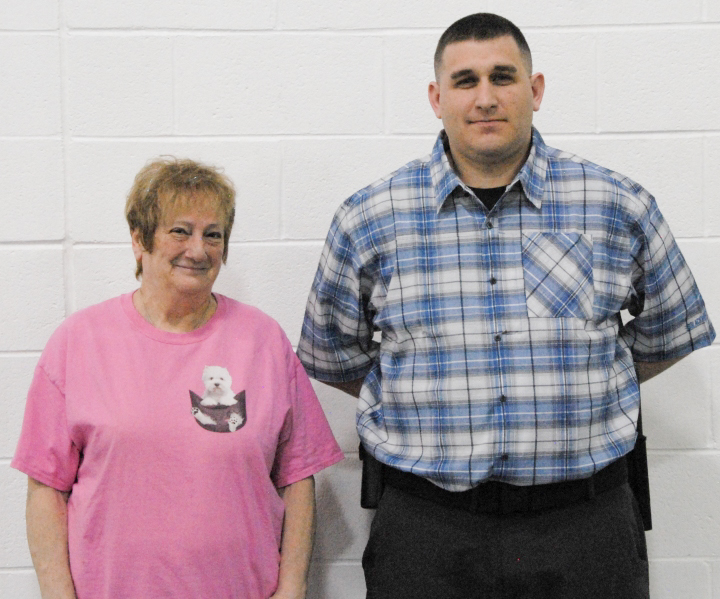 Judy Rowand and Mr. Sparks
Judy Rowand were the initial trainers for the New Leash on Life Program. Judy has been a professional trainer for over 40 yrs. Judy helped get the flagship program started in Marion and Black Mt units. Ron and Judy are happy to be helping with the program at Mt. View Correctional facility.